The philosophy behind Petit Crabe
We care about the world we live in, that our children will take over. In addition to making timeless swimwear that protects against the sun's harmful rays, it is close to our hearts to take good care of the environment and the people involved in production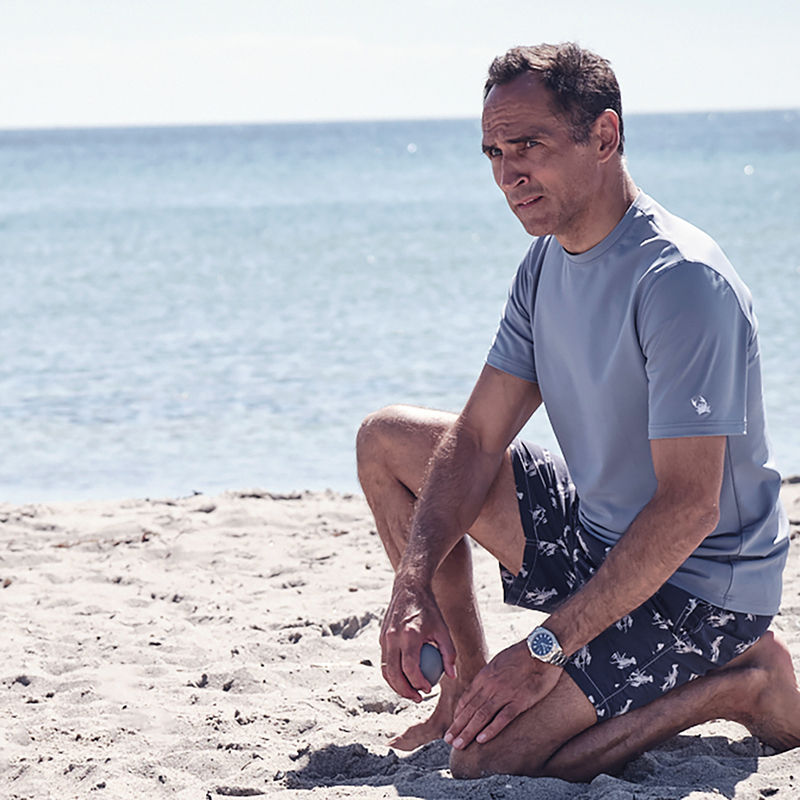 Help us take care of the environment
We wish for our swimwear to live as long a life as possible, as we know how important this is when caring for the environment. Therefore, we would hope take good care of your swimwear and consider passing it on, or reselling it, when you no longer need it.

Our philosophy is that clothes should be used again and again. We love to see how our products explore from child to child – Summer after Summer.
To give your clothes the chance at lasting a long time, not only with you but with the next owners too, we have developed a guide that describes how to treat our swimwear in the best possible way.
Better Materials
We are increasingly focusing on the environmental footprint left behind, when producing our swimwear. From 2022, we switch exclusively to using responsibly recycled polyamide and recycled polyester in our products. We see it as an important step on the journey towards becoming a more circular company.

Most of our products consist of approximate 78% polyamide and 22% elastane. Polyamide is a durable and quick-drying material that makes it extremely suitable for swimwear. Elastane gives swimwear the high elasticity, ensuring optimal fit and comfort.
Read more

The production of new polyamide consumes the planet's natural resources. We therefore believe that material recycling is one of the solutions to the fashion industry's environmental challenges. Considering this, from 2022 onwards we will only use recycled polyamide in our productions – an important step towards becoming a more circular company. Recycled elastane is unfortunately not yet widespread in Europe, therefore we currently use virgin elastane in our products. We are closely following developments in the field, whilst striving for all our materials to come from recycled sources. The same applies to our packaging: from 2022, new products will be packed in bags made from recycled plastic.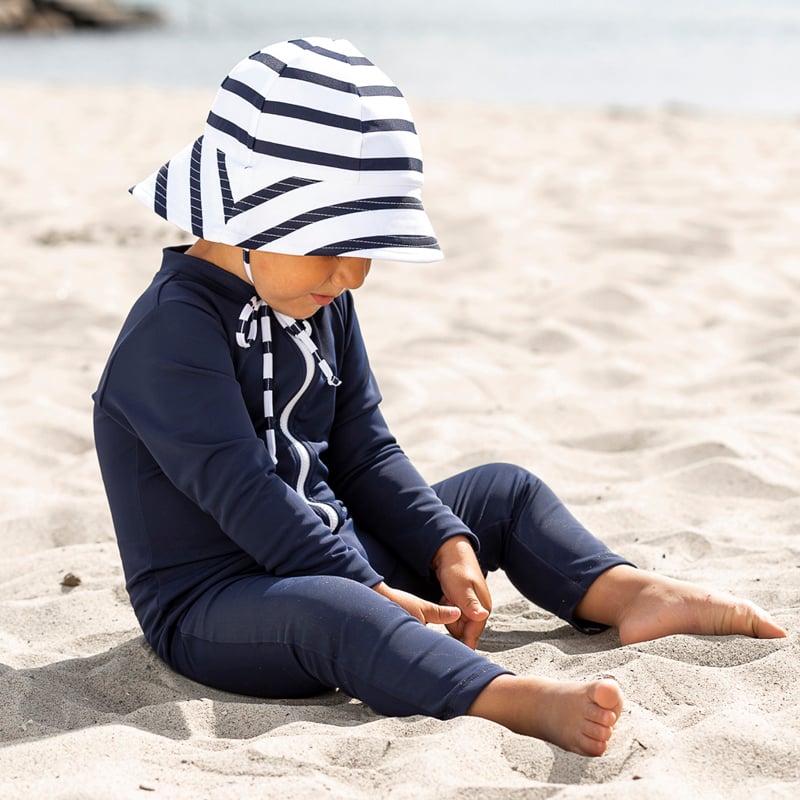 Safe Products
Children are our primary focus – their well-being and safety means everything. The fabric we use in our swimwear is OEKO-TEX® certified. This way we ensure that the swimwear is free of chemicals that might be harmful to our health. The sun protection in our swimwear is developed without the use of chemicals. The sun protection properties come from the weave structure and thread density of our materials.

Our swimwear provides maximum sun protection at UPF50+, blocking more than 97% of the sun's harmful rays.
From 2022 we began testing our swimwear according to standard 801 and the American standard AATCC 183: 2020. The UV Standard 801 is one of the most stringent testing systems in the world. The textiles are also tested under wet, stretched and abrasive conditions.
Read more

Products produced before 2022 are tested according to the European standard EN 13758-1:2007-03, the American standard ATTCC 183-2014 and the Australian/New Zealand standard AS/NZ 4399:2017

The OEKO-TEX® certificate guarantees that the finished product does not contain harmful substances. The chemical restrictions issued by OEKO-TEX® are far more extensive than the legislation in Denmark and the EU (REACH) prescribes.
Design Philosophy
We create just one yearly collection, in the kind of quality and timeless design that lasts year after year.

With only one annual collection, we work differently from the usual way of the fashion industry. Our collections consist of carefully selected products, all of which carry our creative DNA: long-lasting favorites designed to express style and minimalism, with a few fine details.

It's essential that our swimwear withstands being used again and again. Using the clothes for as long as possible is the best thing we can do for the environment.
Our policies
Our policies are the foundation of our company and are based on internationally recognized guidelines.